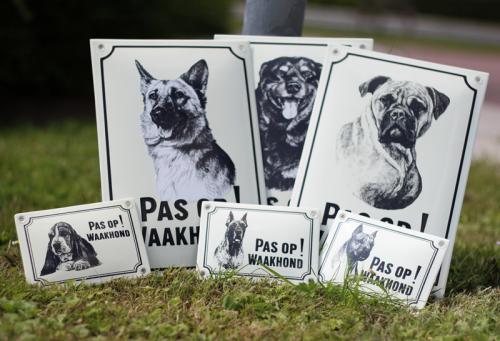 Watchdogs series
Emaille waakhond borden
"Pas op waakhond" borden voor bij uw voordeur of portiek vind u hier. Veelal zegt de afbeelding op een waakhond bord genoeg om ongewenste gasten buiten de deur te houden. Een emaille waakhond bord is een traditionele oplossing om ongewenst bezoek te weren, maar wel degelijk nog steeds zeer effectief. Bovendien is het gebruik van een emaille waakhond handig als waarschuwing voor pakketbezorgers of visite. Bezoekers met angst voor honden, kunnen dankzij een "pas op waakhond" bord zich voorbereiden op een ontmoeting met uw hond zonder te schrikken.
"Pas op waakhond" bord met afbeelding van uw eigen hond bestellen?
Kan u uw hond of hondenras niet vinden in ons online assortiment van waakhond borden? Géén zorgen. Bij Emaillegigant hebben we jarenlange ervaring met het op maat maken van emaille "pas op waakhond" borden. Het is natuurlijk wel zo leuk als uw eigen hond herkenbaar is op uw emaille waakhond bord. Prijs op aanvraag.
De Emaillegigant staat ook voor deze uitvoering 100% borg voor de levering van een hoogwaardig emailen waakhondbord uit de TopEmaille® collectie.